Lorraine McIntosh 1964

Lorraine McIntosh singer and actress was born on 5th May 1964 and spent her childhood in Cumnock. Lorraine was educated at St. John`s Primary and St. Conval`s High Schools in Cumnock. She became known to millions worldwide as the singer in Deacon Blue (one of the Scotland`s top bands). But despite a string of Top Ten hits and sell-out concerts across the world the band split up in 1994. Lorraine turned her back on fame to bring up her children.
After a four-year break, she re-launched her career by appearing in the Ken Loach film My Name is Joe. She said: "Working on the film was like a breath of fresh air and I hope to continue acting". Lorraine had a major part in the movie which was shot entirely around the streets of Glasgow. Her work was so successful it led to a number of TV roles, including a part in Taggart and Psychos, along with a theatre tour in Mum's The Word. She said: "I think it`s wonderful that the talent in Scotland is being utilised at last and hope to see more Scots being given a chance."
Lorraine`s rise to fame began when she moved to Glasgow and joined Deacon Blue – the Glasgow-based band. She knew lead singer Ricky Ross and asked if she could join his group. She auditioned as a singer and was accepted by the band which was doing various gigs throughout the city. As the band`s success grew romance blossomed for Lorraine with Dundee-born singer Ricky. They married in 1990 and two years later had their first child (Emer) – they now have three children. The family eventually moved to France where Ricky concentrated on his solo career and later travelled to Los Angeles to record in 1995. It was during that summer that Lorraine first heard about My Name is Joe when writer and family friend Paul Laverty outlined the script. Two years later she was introduced to the director of the film – Ken Loach. But while she enjoys her acting Lorraine continues her singing career and has formed a new band, Cub, with Glasgow musician Brian Docherty. Since December 2002 Lorraine has played Alice Henderson in the BBC Scotland Soap River City
Deacon Blue
Taking their name from a Steely Dan song, Deacon Blue were one of the best known bands in Scotland. They formed in 1985 and performed their first concert as the opening act for The Waterboys first show in England. With the vocals of singer-songwriter Ricky Ross (and later also Lorraine McKintosh) backed by jazz and soul-inspired melodies, the group recorded several British hits in the late-1980s. Their success, however, failed to carry over to American audiences. Frustrated by their inability to secure international popularity, the group disbanded in the summer of 1994. In May 1999, the group agreed to reunite for a series of concerts in Great Britain and Europe. Their first new album in five years, Walking Back Home was released shortly afterwards.
Cumnock History Group member Anne Griffiths was a neighbour of Lorraine when they lived in the Barshare Housing Scheme in Cumnock, Ayrshire. Anne shares this photo of John Griffiths, Lorraine MacIntosh, Jim Griffiths and Ian Drury photographed outside River View, Barshare in 1967. Lorraine had come with her family as overspill from Glasgow and lived round the corner in Barshare Road.
William Simson 1758 - 1815
William Simson (poet and Burns` Winsome Willie) was born at Tenpoundland, near Ochiltree, in 1758 and studied at Glasgow University. He became the schoolmaster of Ochiltree in 1780, and then transferred to Cumnock in 1788. He wrote a number of poems – including one to Robert Burns – who replied with his Epistle to William Simson in May 1785. Burns probably visited William in Cumnock and he gave him his name of "Winsome Willie" William Simson died in 1815 and his grave is in the old cemetery. The stone in inscribed with a poem by Adam Brown Todd.
James MacMillan 1959
Sir James MacMillan composer and conductor was born in Kilwinning in 1959 and educated in Cumnock. James studied music at the Universities of Edinburgh and Durham, gaining his doctorate in 1987. He began his career lecturing at the University of Manchester. James gained acclaim following the successful premiere of two works; namely The Tryst at the St Magnus Festival on Orkney and The Confession of Isobel Gowdie at the BBC Proms. The latter work explores the effects of witch-hunting following the Reformation. His other compositions include the percussion concerto Veni, Veni, Emmanuel which has been regularly performed by Evelyn GLENNIE (this work has received over 150 performances to date and has been programmed by leading international orchestras including the New York Philharmonic, the Philadelphia Orchestra, and the Detroit Symphony); Seven Last Words from the Cross and Cantata for Choir and Strings.
James was a featured composer at Edinburgh Festival in 1993 and has worked with orchestras internationally, including the Scottish Chamber Orchestra, BBC Philharmonic, the London Symphony Orchestra, the Cleveland Orchestra and New York and Los Angeles Philharmonics. He maintains close links with fellow composer Peter Maxwell DAVIES who has been an influence on his work. Other influences include his political and religious convictions (a Socialist and devout Roman Catholic) and his sense of national identity.
James now lives in Glasgow, where he is an occasional tutor at the Royal Scottish Academy of Music and Drama.
Cumnock Fair
Cumnock Fair had its world premiere on 23rd March 1999 in Cumnock Academy, Ayrshire – played by musicians from Scottish Chamber Orchestra. The piece is a twelve-minute fantasy by James MacMillan based on dance melodies by the 18th century composer from Cumnock, John FRENCH. It was commissioned by Cumnock Music Club for its Golden Jubilee concert in 1999. It is thought that Robert BURNS knew John French and that the composer played the fiddle for the dance classes reluctantly attended by the poet as a young man in Ayrshire. French was also a friend of James BOSWELL, Dr JOHNSON's biographer and dedicated many of his compositions to him and to his wife. Cumnock Fair quotes clearly from one of these "Mr James Boswell's Jig" and alludes to another (which is more hidden) "Mrs Boswell of Auchinleck's Reel". French's original Cumnock Fair, a strathspey, is also quoted audibly.
Cumnock Fair is dedicated to Isabel Crawford, secretary of the Cumnock Music Club
John Ingram 1803 - 1874
Born and died in Mauchline, he worked as a snuff box painter in Cumnock and married Lillias McKinlay daughter of John Mckinlay a saddler and  innkeeper there in 1828. They had 5 children. He left her and their children there and retained to Mauchline about 1840/41.
He wrote poetry, taught drawing and was a wit and a bit eccentric. He suffered with his mental health.
His brother was James Ingram architect, whose son Robert Samson Ingram  was the architect of Garallan School in 1874, Cumnock Public School in 1876, Cumnock Town Hall  1885 and the Baird Institute 1889
More about John here on Cumnock Connections tree
Jim MacKendrick 1920-98
James McLelland McKendrick was born in Cumnock  on 30th July 1920 to grocer John McKendrick and his wife Janet McLelland. He attended Glasgow School of Art 19138-1942 and on graduation went to be Head Teacher at Kwame Nkrumah University of Science and Technology (KNUST) at Kumasi, Ghana. He returned to the UK in 1962. He was renowned for his aviation paintings. He died Bury in 1998. He left his estate to Glasgow School of Art.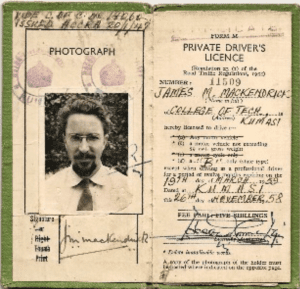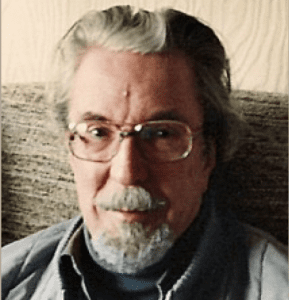 Make a gift to preserve Cumnock's history
If you feel that you would like to donate a money gift to CHG to help us continue our research into the people and places of Cumnock