Boswells of Garrallan
Patrick Charles Douglas Boswell
Born on September 26, 1815, in Ayr, Ayrshire, his father, Hamilton, was 47 and his mother, Jane, was 36. He married Annabella Alexandrina Campbell Innes on June 17, 1856, in Newcastle, New South Wales. They had five children during their marriage. He died on September 20, 1892, in Old Cumnock, Ayrshire, having lived a long life of 76 years. He held 594 acres of land in the parish which was valued at £1738 per annum as mentioned in the Gazetteer of Scotland 1883.
The Cumnock Express of 23rd September 1892
The Late Patrick Charles Douglas Boswell of Garrallan
This well-known and much respected county gentleman departed this life at Garrallan on the early morning of Tuesday last, in the 77th year of his age, after a comparatively brief illness, for he was present at the Cumnock Flower Show on the 3rd instant, and seemed then in much his usual state of health, although for a considerable time past his strength was visibly departing, and as his hearing had also become somewhat impaired, he appeared much less in public than formerly, and having also resigned the chairmanship of the Parochial and School Boards of the parish – offices which he had long and most satisfactorily filled – he thenceforth took almost no part in public affairs, although the deep interest which he always took in everything which concerned the prosperity of the district, and the welfare of the country at large, continued, till his last illness prostrated him on that bed from which he was never more to rise.
Mr Boswell was sprung from a younger branch of the Boswells of Auchinleck, his ancestors possessing the lands of Knockroon, his father – Mr Hamilton Boswell, only son of Mr John Boswell of Knockroon – coming to the Garrallan estate by his marriage with Miss Jane Douglas, daughter and heiress of Patrick Douglas of Garrallan, whose eldest son, John Douglas Boswell – whom many yet remember – dying about thirty years ago, the estate fell to his brother (the gentleman whose death we now mourn) who was then in New South Wales. About twenty-five years ago he returned to his native land, and took up his residence at Garrallan, and has resided there, happy in the bosom of his family, ever since, with the exception of a few months in recent winters, when they sought the milder and more salubrious clime of the South of England.
Besides the Garrallan estate, Mr Boswell possessed a small estate in the adjacent parish of New Cumnock, and was a kind, generous, and enlightened landlord. For many years too, he undertook the management of the extensive estate of Auchinleck, not as paid agent, but only as an act of friendship towards his relative and neighbour, the late Lady Boswell, and in this capacity he was as successful as he was trusted and beloved by all parties concerned.
As a magistrate too, Mr Boswell was popular, for he delighted to mingle mercy with judgement when occupying a place on the bench, and in every capacity he was equally trusted and respected by men of every shade of politics; and now "he has come to his grave in a full age, like as a shock of corn cometh in in his season," leaving a widow, two sons, and three daughters to mourn his loss and love and revere his memory. His eldest son – Mr Hamilton Douglas Boswell – is at present manager and part proprietor of the Etah Tea Estate in the Sylhet district of India.
Annabella Innes Boswell of Garrallan
The Cumnock Chronicle of 30th October 1914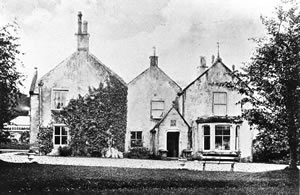 The Late Mrs Boswell of Garrallan
A feeling of profound sorrow was experienced in this town and throughout the whole district on Monday last, when it became known that Mrs Boswell of Garrallan had quietly passed away at nine o'clock on the previous night. Although a good many years have elapsed since she was seen in Cumnock, still hers was a personality which, once known, was never forgotten, and because of that her name was frequently on lips, and her many acts of kindness in the thoughts of the people of the town, and of that portion of the parish of which Garrallan House is the centre.
Mrs Boswell was an Australian lady, and it was in her native land that she became the wife of the late Patrick Charles Douglas Boswell Esq., of Garrallan. In time Garrallan House became their home, and from the first day of their occupancy of it, it radiated kindness and thoughtful consideration for others less happily placed. Down through all the years since then the very name of Mrs Boswell has been synonymous with everything that is pure of mind and lofty of soul. We have been told by those whose privilege it was to enjoy her friendship that her lips never uttered an ungenerous word, for the sufficient reason that her heart never harboured an ungenerous thought. Her sympathies were all embracing, and we are sure that there are many in Garrallan district, themselves wearing into the years, who can recall many acts of kindness done to them in their childhood days by this gracious lady. In pre-School Board days, and long after the Education Act had come into operation, she made the interests of Garrallan School her peculiar care. For the wellbeing of the scholars she evinced a solicitude which was as genuine as it was unostentatious. Although increasing years narrowed her personal activities, they did not in any was affect her interest in the many things which had aforetime won her sympathy and support. A lady of fine intellectual calibre, she kept abreast with the various movements of the time, and nothing of importance pertaining to the district or the county transpired about which she had not an opinion. As lately as Wednesday of last week she entertained the local ladies whose sympathies she had enlisted on behalf of the Ayrshire Needlework Society, and she was made happy in the knowledge that the number of articles contributed this year constituted a record despite the many calls that had recently been made upon the donors. We are constrained to mention this particularly, as it tells better than words could express, the hold that Mrs Boswell had upon the affections of the women-folks of this community. It was really for her sake that the work was done, and we cannot conceive of a finer compliment being paid to any one.
Although Australian by birth, Mrs Boswell's parents belonged to well-known Scottish families. Her father, George Innes, Esq., of Capita, New South Wales, was a son of Major James Innes of Thrumster, Caithness, and her mother was the daughter of John Campbell, Esq., of Lochend, Argyleshire. Their home was the centre round which the best intellect in the young colony converged, so that even in the early years of her life Mrs Boswell enjoyed many opportunities of meeting and conversing with many who were then, or afterwards became, very distinguished people. Herself a young lady of natural talent, this home association with the early governors and government officials of the colony exerted a powerful influence upon her understanding – and influence for good which widened and deepened as the years passed. Because of this it is not to be wondered at that Mrs Boswell never lost her interest in the now great and prosperous colony. The happy memories of her youthful days were never forgotten, and her reminiscences of notable people and notable events were to her intimate and personal friends, as charming as they were interesting. Mrs Boswell had reached an age when she could look back over a long period of years, and as the sunset of life began to cast her shadow long upon the ground, she was more and more able to enjoy that calm and peaceful serenity of mind which not only rewards a well and usefully spent life, but which never fails to beautify old age. It might be added that Mrs Boswell's life was distinguished above all things else by its genuine and warm-hearted Christianity, for her every action bore testimony to her implicit faith in the Divine Truth. Hers was a "pure religion undefiled before God in this: to visit the fatherless and widows in their affliction", and of her it can in all truth be said – "Her children arise up and call her blessed". Mrs Boswell was one of those rare characters who find their own happiness in making others happy. To few is it given to be loved by rich and poor alike, and it is because of that that her passing has been so sincerely mourned.
We take the following from the Glasgow Herald of last Tuesday :-
Our obituary yesterday announces the death on Sunday at Garrallan, Ayrshire, in her 89th year, of Mrs Douglas-Boswell of Garrallan. She was Annabella Alexandrina Campbell, eldest daughter of the late George Innes, New South Wales. In 1856 she married the late Patrick Charles Douglas-Boswell of Garrallan, J.P., who died in 1892, leaving two sons. The elder son was the late Hamilton Douglas-Boswell, who died unmarried in 1898, when Garrallan passed to the deceased lady's only surviving son, John Douglas-Boswell, b. 1867 (BA Oxon), Writer to the Signet, Lieutenant-Colonel Ayrshire Imperial Yeomanry.
The Boswells of Garrallan descend from William Boswell of Knockroon, who was the only son of the second marriage of John Boswell of Auchinleck (from whom his son William received a grant of the lands of Knockroon about 1600) with the Hon. Christian Stewart, daughter of Lord Ochiltree. They have thus a common descent with the famous biographer of Dr Samuel Johnson, the son of Lord Auchinleck, an eminent Scottish judge. Early in the 19th century Hamilton Boswell, whose father had sold Knockroon, married Jane Douglas, heiress of Garrallan, Cumnock, and assumed her surname and quartered the arms of Douglas with those of Boswell. The deceased lady's husband was a son of this marriage. The Boswells have been seated at Auchinleck, Ayrshire, since James IV conferred that barony on Thomas Boswell, who died with his King at Flodden in 1513. The Baronetcy which they received in 1821 became extinct in 1857, when Auchinleck passed to the last Baronet's widow and daughters.
The online Australian Dictionary of Biography says about Annabella :-
Annabella Alexandrina Campbell Boswell (1826-1914), diarist and gentlewoman, was born on 16 September 1826 at Yarrows, Bathurst Plains, New South Wales, elder daughter of George Innes, a landholder, and his wife Georgianna Lorn Moorshead, neé Campbell, both Scottish born. In 1834 Annabella`s parents moved sixty miles north to a cattle station, Glen Alice, at Capertee, while she attended Mrs Evans`s boarding school in Bridge Street, Sydney. After 12 month she rejoined her family to be tutored by governesses. Tall and handsome, she was a bright pupil and a prolific reader with a preference for European history and Sir Walter Scott`s Waverley novels.
In 1839, hoping to improve his health, her father took his family to stay at Port Macquarie with his brother Major Archibald Innes. Four months later George died. Mrs Innes and her daughters returned to Capertee, sold Glen Alice and, after two years at Parramatta, rejoined their relations at Port Macquarie in 1843. Already a prolific diarist, Annabella found much to write about at Lake Innes House and the nearby settlement. Remote though they were, the family borrowed regularly from the Australian Subscription Library, Sydney. The house was noted for its hospitality, aided by liveried footmen, maids, stable hands and a piper. Foremost among the many guests was Governor FitzRoy with his entourage. Lively reports of events, fashions worn, foods consumed and visitors' personal quirks duly appeared in Annabella`s journal.
A knowledgeable gardener and horsewoman, Annabella was proficient in most of the domestic skills required of a countrywoman. Quick to learn, she could crack a whip as well as any stockman or churn butter. She was also a fine water-colourist and pianist. By 1848, without convict staff to maintain it, Lake Innes was no longer viable. Major Innes was appointed police magistrate at Newcastle, where in 1849 Annabella met Patrick Charles Douglas Boswell. A free settler from Ayrshire, Scotland, who was related to James Boswell, the biographer, Patrick was employed by the Bank of New South Wales as accountant, later becoming manager. On 17 June 1856 Annabella married Boswell at Christ Church Cathedral with Anglican rites. She bore one son and three daughters before their departure in 1865 for Scotland, where Patrick had inherited the family estate. In 1867 Annabella`s last child was born at their home, Garrallan, Old Cumnock, Ayrshire. She continued to live the life of a gentlewoman. Patrick died in 1892. Annabella expressed nostalgia for her birthplace by publishing books based on her diaries. These include Annabella Boswell`s Journal and Annabella Boswell`s Other Journal . She died at Garrallan on 25 October 1914. One son and three daughters survived her.
Annabelle Innes - Early life in Australia & later at Garrallan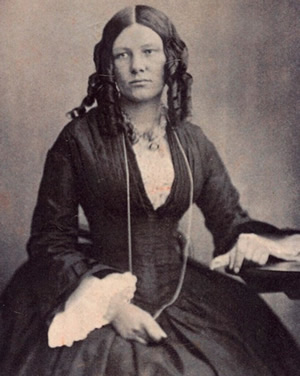 CHG were approached in October 2016 by Carolyn Williams regarding some research and information on Annabella Campbell Innes, the wife of Patrick Charles Douglas Boswell of Garrallan. We assisted Carolyn in researching some background on the history of the Boswells, Garrallan House and Cumnock for her book The Travelling Table.
The book is a fascinating read that really brings the tale of Bonnie Prince Charlie's  Table to life and gives a very good glimpse of what life was like for settlers in the mid 1880s in Australia and their global connections. It makes today's globalisation seem quite laughable – These people were real travellers.
Introduction
The Travelling Table. A tale of 'Prince Charlie's table' and its life with the MacDonald, Campbell, Innes and Boswell families in Scotland, Australia and England, 1746-2016.
By Carolyn Williams, Blue Mountains west of Sydney, Australia. An Australian cousin of Annabella Boswell.
I was inspired to write this story of 'Prince Charlie's table' after seeing it on the Antiques Roadshow. 'Prince Charlie' is 'Bonnie Prince Charlie' and he was said to have used the table at Kingsburgh House on the Isle of Skye during his escape from the British Army in 1746 following the Battle of Culloden. The table was brought to Australia from Scotland in 1821 by Annabella Boswell's grandfather John Campbell of Lochend, who was also my 4th great-grandfather. When John Campbell died in 1827 his son-in-law George Innes (Annabella Boswell's father) bought the table and gave it to Annabella when she was still a child. Annabella mentions this table in Annabella Boswell's Journal, which was published in Australia and Britain in 1987, and in other writings. The table travelled around the colony with Annabella and her family. Annabella brought the table back to Scotland in 1865 and it lived with her at Garrallan House, Cumnock, until her death in 1914. In 1920 the table moved to nearby Auchinleck House with her son, John Douglas Boswell, and it has been passed down through generations of the Boswell family ever since. The current owner, John Boswell, Annabella's great-grandson, took it to the Antiques Roadshow.
From my own research and with the help of John Boswell, I was able to track the history of the table from 1746 until now. Tracking the table and its owners, the places it lived and how it got there, what those places were like at the time and what was written at the table is the focus of my story.  Most of it is set in colonial Australia where Annabella Boswell and her Journal are well known to historians researching Australian colonial history. This nearly 300 year old table really has a remarkable history.
More Information below
http://adb.anu.edu.au/biography/boswell-annabella-alexandrina-campbell-12811
https://commons.wikimedia.org/wiki/File%3AAnnabelle_Innes_circa_1840.jpg
Make a gift to preserve Cumnock's history
If you feel that you would like to donate a money gift to CHG to help us continue our research into the people and places of Cumnock