Banks & bankers, shops & inhabitants, Cumnock Chronicle & Jack Hill - 1961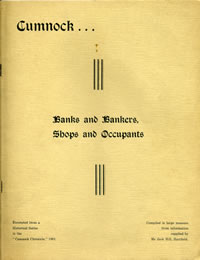 One of our finds when we were invited by Caroline Paterson, the Cumnock Chronicle editor, to visit their offices in Ayr Road to look at and choose some books and documents before their recent move to new offices in Ardrossan.
This original A4 document was produced by the Chronicle in 1961 and contains extensive information on Cumnock Shops, Banks and personalities up until this date. It contains excerpts from a historical series in the Cumnock Chronicle and was mostly written and researched by Jack Hill of Hartfield Villa in Ayr Road.
This is a free 10.8 MB pdf document to all interested in Cumnock and can be downloaded HERE
Cumnock registers & Almanacs
Member Tony Campbell shared his copies of the Cumnock Registers which are very useful for people conducting family research and for general historical data about people's occupation, where they lived, what committees they were on, details of public bodies, clubs and societies and who could vote!
These are all PDF documents and can be downloaded from the links below.
Scots names & place names from the traditions of the covenanters - Rev Robert Simpson 1887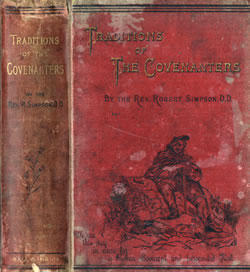 A small glossary of Scots names and placenames from The Traditions of the Covenanters by Rev Robert Simpson.
Download the pdf HERE
Membership to The Cumnock History Group is open to anyone with an interest in the history and heritage of Cumnock and its inhabitants.