The Great War and Cumnock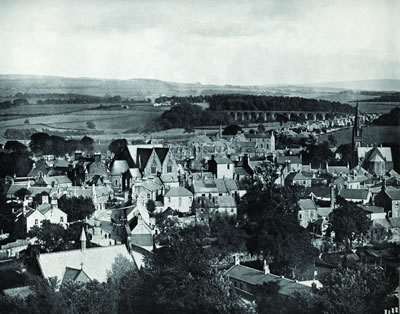 At the outbreak of the Great War on 28 July 1914, the inhabitants of Cumnock went about their everyday business – there was no mention of the commencement of war in the Cumnock Chronicle. Like most places in Britain not much attention was paid to the war as people were told "… it will be all over by Christmas."
This war was different from any previous war. It was warfare on an industrial scale with new weapons such as tanks, submarines, planes and chemical gas warfare. Eventually 32 countries took part and the losses were very high. Fighting took place in many places including France, Belgium, Serbia, Bulgaria, Turkey, Greece, Palestine and Egypt. The south east of England came under attack from ships and planes but the war didn't impinge on Cumnock.
Many men in Cumnock were eager to volunteer for the armed forces. The 2 local regiments being the Royal Scots Fusiliers and Ayrshire Yeomanry, but many young men who were mostly single, miners or farm labourers enlisted in regiments from all over Scotland and further afield. Cumnock women were not far behind in signing up for war work, mainly with the Scottish Women's Hospital, the Women's Army Auxiliary Corps and the Voluntary Aid Detachment.
By February 1916 when the grim reality of the war hit home, Britain was so short of soldiers that conscription was introduced. Some professions were exempt such as clergymen and teachers. Reserved occupations included miners but many had already volunteered. Enlistees had to be 19 to be sent to fight abroad but many signed up at a younger age and were put into training only to be sent abroad as soon as they were old enough.
At home women and men organised support for the war effort through fundraising at flag days, concerts, bazaars etc. Work Parties were formed and these knitted 'comforts' – socks, hats, scarves and gloves which were sent to the front. At Christmas they made up gift boxes with a variety of practical items including food and cigarettes. There were donations of eggs from local farms to go to wounded soldiers in hospitals. There were shortages of food at home with German submarines sinking ships bringing vital supplies – times were hard both at home and on the front.
Families were informed of the loss of a son by a telegram followed by a letter from the commanding officer and maybe from comrades or other local men in the same regiment. In many cases, men were blown to bits and no body was found. In some cases it might be a year before they were officially listed as dead, a time of anguish for families who hoped against hope that their man had escaped or had been taken prisoner. Few families in Cumnock escaped losing a family member or a neighbour in the war.
Not all those who died were shot or blown up. Many died of illnesses such as dysentery, malaria, fevers, pneumonia, illnesses that are now treatable with modern drugs such as antibiotics. Many of those who survived bore the scars, mental and physical for the rest of their lives. Many lost limbs, were blinded or suffered from what we now call post-traumatic stress disorder or PTSD.
Scotland's contribution to the British Armed Forces was considerable with the country sending over 690,000 men to war. World War One would last 1,566 days and would take over eight and a half million lives.
By the time the armistice was signed in November 1918 estimates for Scotland conclude that 74,000 never returned home, either killed in action or succumbing to disease, while a further 150,000 were seriously wounded. The impact of this devastating loss of life was felt the length and breadth of the country, and today almost every village and town in Scotland has its own memorial to those who died. It is difficult nowadays to realise what this meant for families living in Cumnock where 662 Cumnock men enlisted and 117 never came home.
Germany had formally surrendered on November 11 1918, and all nations had agreed to stop fighting while the terms of peace were negotiated. After the armistice there was still sporadic fighting and it took a year for some men to get home. On June 28 1919, Germany and the Allied Nations, including Britain, France, Italy and Russia, signed the Treaty of Versailles, formally ending the war.
In 2014 Cumnock History Group decided to research the 117 names of the WW1 soldiers on the War Memorial in Cumnock Cemetery – this research found many more men and women connected with Cumnock that are not on the memorial – some died in battle, some were injured and some survived. This opened further lines of research.
Full stories and further research continues online at: www.cumnocksoldiers.blogspot.co.uk
Make a gift to preserve Cumnock's history
If you feel that you would like to donate a money gift to CHG to help us continue our research into the people and places of Cumnock