Films
Some Films old and new concerning Cumnock's heritage and history.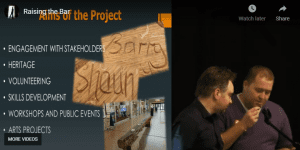 Community Heritage Conference
Shaun Lowrie and Barrie MacMillian present the community archaeology work in Cumnock at the Community Heritage Conference in November this year. This is about the Raising the Bar project and the History Group formation. Very enjoyable and informative watching! Click on the image below.
A Drive Through Cumnock
New member Campbell Tanner, from Cumnock, shared his video of 'A drive through Cumnock on Sunday 16th July 1989' – no sound. Good to see auld parts of the Toon!
Make a gift to preserve Cumnock's history
If you feel that you would like to donate a money gift to CHG to help us continue our research into the people and places of Cumnock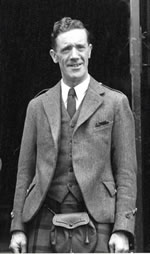 Stevenson Film Archive
Member Robert Stevenson shared his family archive of films spanning the 30s, 40s and 50s. The majority taken in Cine Film by Stanley Cameron Taylor, opposite and a close family friends of the Stevenson Family. Stanley started work in Tweedies garage in New Cumnock. Later on he worked for Scottish Aviation at Prestwick. He lived at Clach-Ian, 2 Barrhill Terrace at the time of the Winter Storm in Cumnock film and we think that he features in that film. All films are and are all © Robert Stevenson.
1939 silent footage of Provost Nan Hughes unveiling the bust of her father Keir Hardie in front of the Town Hall in August 1939