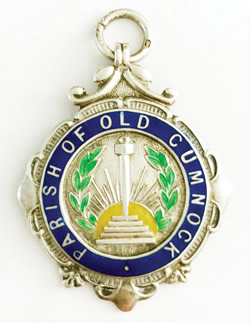 An article in the Cumnock Chronicle from August 1919 estimated that the cost of the medals would be between £600 and £700 but the same paper reports that in March 1920 that the War Memorial Committee treasurer be authorised to pay the account of £327 for the 728 medals supplied and to suggest they endeavour to get a rebate on that figure for the failure of the firm Fattorini & Sons of Bradford to supply cases with the medals.
The medal is silver and enamel in design. On the obverse is a circle of blue enamel with the words 'Parish of Old Cumnock.' In the centre the old Mercat Cross stands out in relief, surrounded by a laurel wreath in green and with the rising sun and its rays reflected behind the Cross.
For those who returned, the reverse of the medal was inscribed – "Presented to – – for services rendered during the Great War – 1914-1919." And for the fallen – "In remembrance of – – who gave his life in the Great War – 1914-1919."
Above this is the Fattorini & Sons Bradford imprint and underneath some assay marks: the Anchor mark for Birmingham, the Lion mark for sterling silver and a date letter for 1919.
Make a gift to preserve Cumnock's history
If you feel that you would like to donate a money gift to CHG to help us continue our research into the people and places of Cumnock