Monumental Inscriptions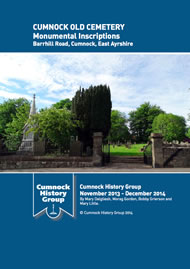 We have now published our Cumnock Old Cemetery Monumental Inscriptions after a year long project of checking the original inscriptions from the headstones and photographing them. Call it a visual stocktaking and assessment.
The 21mb PDF file includes the inscriptions, surname index, maps and some photos and can be downloaded free HERE
Special Offer*
We are also offering an enhanced version of this document on an accompanying USB Flash-drive loaded with a large pdf booklet of over 500 high quality photographs showing each headstone alongside the relevant inscription plus many added extras. This is available for purchase on our site for £10 a copy plus postage and packing.
Delivery within one week of purchasing.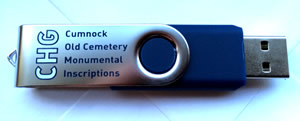 A 11mb sample PDF of this can be downloaded HERE
*It also includes a digitised copy of Warrick's The History of Old Cumnock 1899 for a limited period only.
Funds raised from sales being used to undertake further research into the history and heritage of Cumnock.