Galas, Carnivals and Field Days
Holidays in Cumnock were marked by special summer events for children and families.
Simple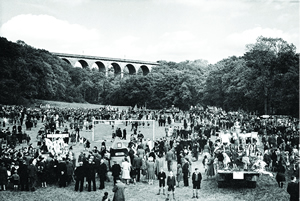 School Gala days were organised in the early 20th century and the first Cumnock Carnival was staged in 1946 as part of the Victory celebrations in Cumnock and was so successful that it became an annual event in June or July every year. The Carnival Queen was traditionally chosen at a beauty contest at a local dance and this continued up until 1960 when the Queen was chosen from local schoolgirls. The last traditional Cumnock Carnival was in 1974 where due to lack of volunteers the tradition fell by the wayside. Cumnock Gala then took it's place in 1985 and in 2010 there was a revival of the traditional Cumnock Carnival, although not attracting the thousands of revelers that it enjoyed in its heyday.
The carnival was the highlight of the summer for many people in Cumnock and from the surrounding districts. Hundreds of people took part in decorating their streets and entering a themed 'float' for the big parade through town ending at the Woodroad Park where the newly chosen Carnival Queen was crowned. Entertainment from bands, fair-side attractions, swimming competitions, exhibitions and plays lasted over a whole weekend.
Galas and Field Days also ran throughout this time often to replace the Carnival of running in tandem.
Below we have researched most of the years through Chronicle archives, film, programmes and actual photographs of the events, many of which have been donated by members including Mary Little, Janet Smith, Bobby Grierson, Robert Stevenson, Garry Savage and other members.
Scottish Screen Archive's Film 'CUMNOCK CELEBRATION, JUNE 1951' by John Nimmo have agreed to share the link on their website: http://ssa.nls.uk/film/1929. Thank you Scottish Screen Archive!
These galleries work best on a tablet or PC - they will be small on a phone.
Click on the full-screen icon

for a bigger view.